The growth of online publishing and the new technologies added new challenges for everyone involved with the information production chain: from authors to distributors, from editors to researchers.

• digital preservation and distribution of knowledge;
• as soon as possible peer-review and quality publishing of the research results ;
• fast and effective search on globally distributed databases;
• publishing articles with not only texts but also pictures and multimedia content.

Our goal is to minimize the gap between links in the information chain.


Services





Digital Imaging
Technology and processes to transform your printed originals to full-text high quality images for on-line publishing.

• High quality image capture and image enhancement.
• Multiple output formats (PDF Image, PDF Image + Texto, PDF texto, Word, HTML etc.)
• Over 99.98% of accuracy by professional revision staff.
• Available in English, Spanish and Portuguese languages.

Conversion
Technology and processes to transform your digital files in PageMaker, QuarkXPress, Word or Ventura formats to web-standard formats for on-line publishing.

• Output formats: HTML, PDF or XML
• Triple proofing process
• Quality control system and web enabled workflow (SiGEP login/password= visitante/demo)
• Highly trained team with proved experience
• Custom layout projects or according with technical specifications.
• SciELO standard or custom markup
• Full-text or custom indexing

Consulting, design and development
• Bibliographic and editorial normalization
• Graphic design
• Desktop publishing
• Web-Sites: design, build and maintenance
• Local or external database integration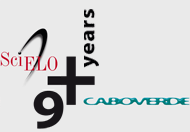 Caboverde is working with SciELO project since the beginning in 1998 delivering more than 50.000 articles from dozens different publications, bringing together more than 15 years of experience in digital media, imaging and desktop publishing.